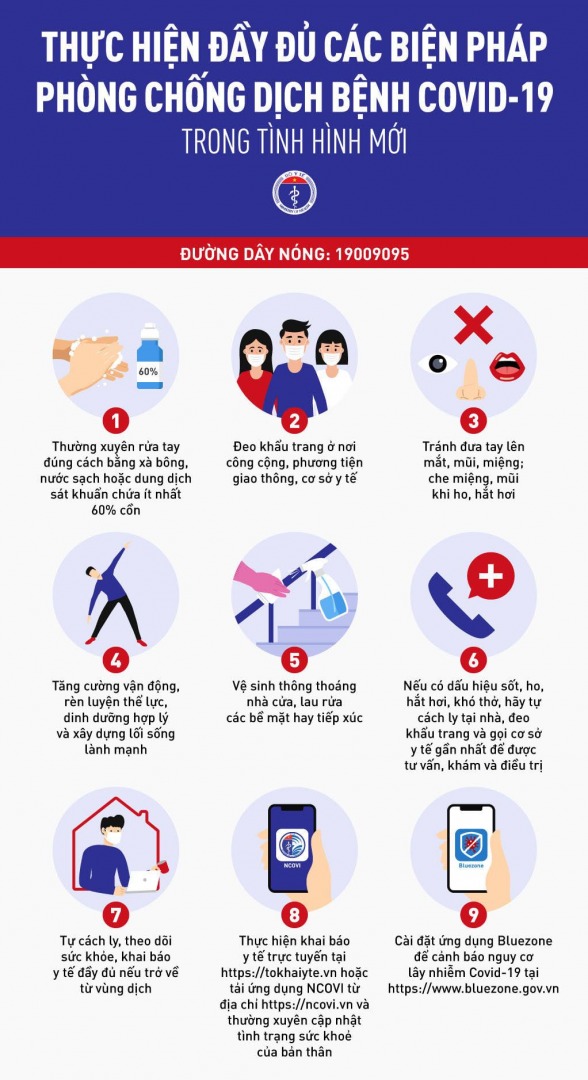 The Ministry of Health has just issued the latest recommendations to prevent the COVID-19 epidemic in the new situation and recommends that people fully implement the following disease prevention measures:
1. Regularly wash your hands properly with soap under clean running water, or with an alcohol-based hand sanitizer (at least 60% alcohol).
2. Wear a mask in public, on public transport and to a medical facility.
3. Avoid touching your eyes, nose, mouth. Cover your mouth and nose when coughing or sneezing with a tissue, cloth, or elbow.
4. Increase movement, physical training, proper nutrition to build a healthy lifestyle.
5. Clean and ventilate the house, clean frequently touched surfaces.
6. If you have signs of fever, cough, sneezing, and difficulty breathing, isolate yourself at home, wear a mask and call the nearest medical facility for advice, examination and treatment.
7. Self-isolate for health monitoring, complete medical declaration if returning from epidemic areas
8. Make an online medical declaration at https://tokhaiyte.vn or download the NCOVI application from https://ncovi.vn and regularly update your health status.
9. Install Bluezone application to be warned about the risk of COVID-19 infection, help protect yourself and your family: https://www.bluezone.gov.vn/.